Textbook: Weber & Arfken, 2004, Essential Mathematical Methods for Physicists (hereafter Weber or WA as convenient). See also the publisher's Weber site and Google books Weber site which has online detailed contents.

This is a somewhat more pedagogical version of the classic Arfken book: Arfken & Weber, 2005, Mathematical Methods for Physicists (hereafter usually Arfken). Yours truly actually uses Arfken (1970) as a reference---since that is the edition of Arfken that he's had for three dog ages.

Weber is, of course, pretty good. All the good stuff presented with explication and enough rigor for most physicists.

I have to admit that sometimes the pedagogy stuff is an annoyance to me. I prefer to see the general result and then specialize for examples: i.e., I like the original Arfken style better. But this may just be a matter of taste. Also maybe fewer, but choicer words would help in some cases I think.
But all instructors think that about their texts.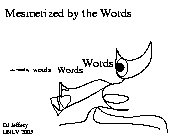 Alien mesmerized by words.
There are also a few typos, wrong internal references (which happen all the time in revised editions), and even occasionally (in my view) subpar explication. Students (and instructors) shouldn't be afraid to challenge the text: usually the text is right, but even Arfken nods.
Nonetheless you will probably treasure this book and keep it after the binding falls apart and it is in piles of fragments.
We will hew pretty closely to Weber since, among other things, the instructor's knowledge is nearly textbook thin on many, but not all topics.
We only cover part of Weber since there is more in Weber than can be covered in two semesters (maybe even three semesters) and we have only one: see Tentative Schedule below.
Exams: There will be 2 in-class exams of 75 minutes and a 2-hour COMPREHENSIVE FINAL.

The in-class exams cover the material up to some cut-off point that will be announced in class and on the course web page in the Tentative Schedule.

The final is about 50 % weighted or more on material since the last in-class exam and about 50 % weighted or less on all the material that came before the last in-class exam.

The tentative dates for the exams are:

      _________________________________________________________________

      Exam        Date     Solutions (posted post-exam)
      _________________________________________________________________

      Exam 1      Sep30 R   Exam 1 solutions
      Exam 2      Dec09 R   Exam 2 solutions 
      Final Exam  Dec14 T   Final Exam solutions
                            The final is at 7:30--9:30 am in the regular class room
                            as specified by 
                            Finals schedule for 2010 Fall.
      _________________________________________________________________
      
The exams will mainly consist of full-answer questions. A few easy multiple-choice questions may be included at the start as a warm-up. NO scantrons are needed.
The exams are closed book.
Calculators are permitted only for calculational use which may be slight. No saved formulae, solutions, programs---you are on your honor.
Cell phones MUST be turned off and be out of sight.
Make-up exams are possible, but students must ask for them promptly and avoid knowing anything about given exams.
Evaluation and Grading: The 3 grading categories, their weightings, and their drops are:


      homeworks                  10 % or so   1 drop
      2 in-class exams           35 % or so   no drop
      1 comprehensive final      55 % or so   no drop

      
Note that yours truly is leaving myself a bit of wiggle room on weighting. I don't think I will wiggle, but sometimes anomalies arise and a bit of wiggling is expedient.

Each in-class exam is worth 22.5 % or so of the final grade.

Attendance is NOT kept and NO marks are assigned for attendance. Students are encouraged to keep good attendance. Attendance keeps all of us yoked to the material and moving forward.
In any course, just showing for the lectures keeps the student at least partially up to date just in itself.

It's hard to fall completely behind if you attend lectures.

And there is lots of evidence that good attendance correlates with achievement---but don't ask me to produce this evidence---it's what deans tell me.
There are absolutely NO extra credits.

Letter grades will be assigned per NAU grading policy--which allow instructors some freedom of interpretation on how do determine ``average''.

<! The catalog says C is average, but does not defines average. I think that the folks at Boise State can all get C's. Really I aim at sort of the B- range, but there is no set GPA in my mind.> The instructor uses a curve to automatically assign letter grades during the semester---if there are enough students to make a curve meaningful---if there arn't, the instructor just decides on letter grades.

There is NO fixed scale.

The curve is only used for current total grade: individual items (tests, etc. are NOT curved).

For these curved grades the instructor uses an 11-grades scale: A,B+,B,B-,C+,C,C-,D+,D,D-,F. There are no pluses or minues with A and F.

The final grades are decided on by the instructor directly---the curve is NOT used, except as a guide.

In this course, I expect that the class GPA will be in the B- range (i.e., about 2.7) or a bit higher---but I am rather parsimonious about A's---just being in the upper half of the class is not enough.

There do NOT have to be any D's or F's---the curve is NOT used for final grades.

The NAU grading policy has only 5 levels, of course: A,B,C,D,F.

The instructor will submit MIDTERM GRADES and FINAL GRADES as scheduled in the 2010 fall academic calendar.

Remember that after an instructor has submitted FINAL GRADES, any adjustments (except for purely clerical errors) are NOT easy.

This is true for any course.

Students should make any queries about their final grades before the instructor submits them.
About grades: they are important, but they are not everything.

They are a measure of what you learn in a course: the learning itself is what counts ultimately.

If you've worked hard in a course and learnt a lot, then that helps you will all the following courses and all the rest of your life.

The best strategy is to work hard in a course subject to all other constraints in life.

Of course, if you need a specific grade for some particular thing (e.g., a scholarship), don't undershoot.

Don't imagine you can fine tune your effort just to get that specific grade.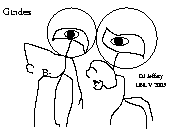 Beware of aliens bearing grades.