! off-white background, red letters, blue clickable, green clicked >

<!BODY BGCOLOR="00ffff"> <! aquamarine background> <! body bgcolor=0000a0 text=ffffff link=f0ff00 vlink=80ff00 alink=000000> <! blue background >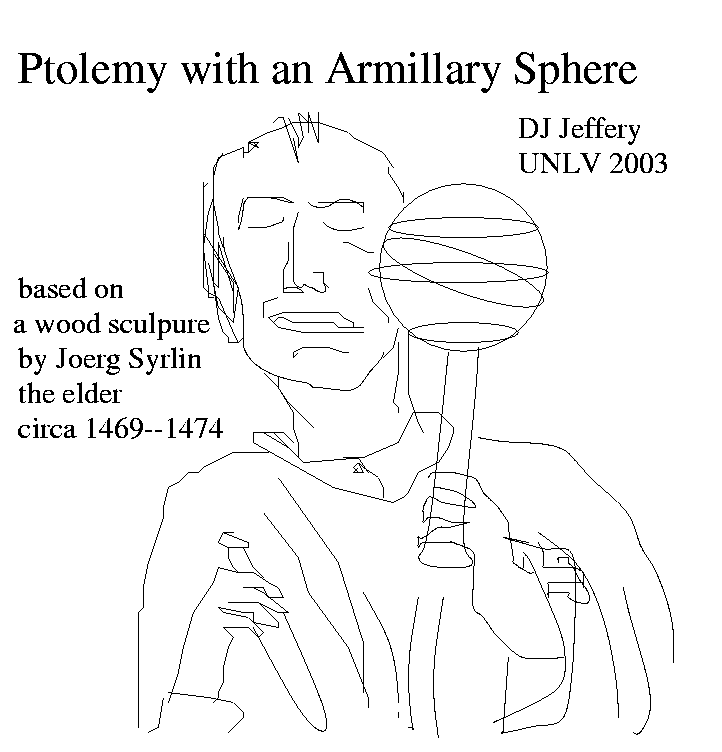 ---
Ptolemy: Claudius Ptolemy (circa 100--175 CE)
---
The greatest mathematical astronomer of the ancient world. His book the Almagest is the ancient classic of astronomy:
Ptolemy (Klaudios Ptolemaios) c.~150~AD, Almagest (Alexandria, Egypt: Ptolemy).
The original title was something like Mathematical Treatise. Almagest is a Latinization of an Arabization of the Greek expression ``the Greatest.'' How could Ptolemy have missed heliocentrism: I'd just like to kick the guy sometimes: he'd probably want to kick himself.
Sites
Images
Many of the images are now broken links. I've come to the conclusion that without some clear statement of permission to use or of public domain status, I've no clear right to show those images. The historical originals are uncopyrighted, of course, but the reproduced images may be copyrighted and even if not, someone might feel agrieved that they circulate on the web. The images linked by thumbnails are legitimate to use for personal educational purposes with credit and the thumbnail link gives the credit and link to the source if needed.